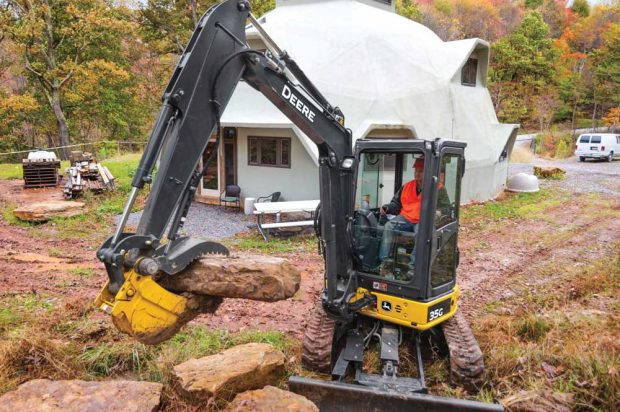 A dealer once submitted a warranty claim on a mini excavator stating that the engine started knocking, that it eventually shut down and that it would no longer start. Upon review, to diagnose the issue, we found a piece of tape on the gasket of the oil filter. The machine had been slowly leaking oil until it lost lubrication and spun a rod bearing. Incorrect installation of the filter may have been a cause of the machine failure, but the bigger issue was the lack of daily maintenance. It was clear that nobody was checking the machine daily. Daily service checks would have revealed the leaking oil and could have prevented the whole situation. Correcting small issues before they become big issues will save a lot of time, energy and money.
Mini or compact excavators are among the most versatile and useful machines to have on the jobsite. They are tough, they take a variety of attachments and their size allows them to get into tight spaces. Because of this, they are used in applications from landscaping to road building to site development. They are also used across a wide range of geographies. Regardless of where they are being used, owners and operators need to understand that they will get far more value and life out of the machine if that machine is properly maintained. There are various components of maintenance and dos and don'ts for operators to follow to ensure the full lifespan of the machine.
First and foremost, it's important to ensure that operators are using the machine correctly, and that they understand when and how the machine should be maintained. All machines should come with operation and maintenance manuals. It is important that these be reviewed prior to machine operation as they outline control functionality, maintenance schedules and other essential information.
Regular service checks are an essential part of compact excavator maintenance. There are routine checks that need to be completed daily and at a regular service interval, which is also determined by how many hours a machine is used. Failing to check a compact excavator in a timely manner can ultimately lead to damage and shorten the lifespan of a compact excavator. Between daily service checks and regular intervals for service, such as filter or oil replacement, a compact excavator will run its best if the maintenance schedule is followed closely.
Going beyond the machine maintenance, ensuring that your attachments are properly set up and maintained is essential. Before running attachments, make sure that they are connected to the machine correctly and respond properly to operator controls. Using an attachment that is not properly connected to the machine can result in damage to not only the attachment, but potentially others on the jobsite. When using a bucket attachment, operators should also make sure that the bucket teeth do not have any wear or damage, as this will prove inefficient over time. For attachments connected to auxiliary lines, make sure that pressures and flows are set correctly to avoid damage to the attachment or machine. Operators should understand that the use of certain attachments, such as crushers or hammers, may require more frequent filter and oil change intervals due to additional wear and contamination of the hydraulic system.
Undercarriage maintenance and track maintenance are important to the mobility and productivity of a machine. Ignoring track maintenance will ultimately slow down the operator. It's important to maintain a properly tightened and adjusted track to ensure that the track life is not impacted or damaged during use. A track that is too tight will lead to premature wear and short track life. A track that is too loose can come off the sprocket.
Operators are frequently moving around in dirt and debris on a jobsite, so it's also a best practice for operators to regularly clean out chunks of mud from tracks. There have been instances where mud gets clogged in a track and then freezes in cold weather — that compact excavator is out of use until the mud can thaw. If using a 35G with rubber tracks, avoid operating on sharp, rocky or uneven surfaces as these can wear or damage the tracks. If your machine will be parked for an extended number of days or weeks, store it away from direct sunlight which can lead to premature deterioration of rubber tracks.
Proper use and maintenance of hydraulic fluid, filters and fuel is critical for the life and productivity of your mini excavator. Low hydraulic oil levels, or the use of incorrect oil, can make your hydraulic functions slow or can completely reduce hydraulic power. Always use factory-recommended oil and fuels and be sure to check oil and coolant levels daily. Replace filters at the recommended intervals as restricted fuel filters or contaminated fuel will keep your engine from running at full power while also consuming excessive fuel.
When making daily service checks, keep an eye out for kinked or rubbing hoses, dented piping or loose clamps. Damaged or worn hoses and lines will negatively impact performance and can become safety risks. Operators that are proactive in their daily maintenance will help keep their machine running without sacrificing power. Replacing damaged or worn hose lines sooner will save a headache later down the road. Before starting the machine, operators should also check to make sure that any clamps are tightened to avoid a safety risk.
Following these best practices on a timely basis will increase operator productivity and machine uptime. Compact excavators offer users tons of power in a smaller machine form. Keeping these machines well maintained will ensure that you get the most out of your excavator and the most out of the task at hand.
Jonathan Spendlove is a product marketing manager of compact excavators with Hitachi and John Deere Construction and Forestry.