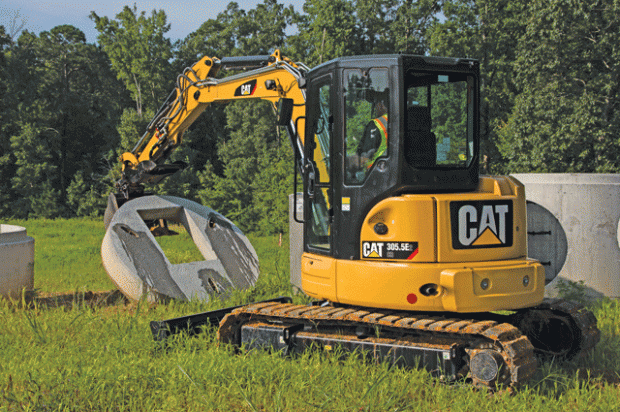 New Machine Introductions and Updates from the Famous Brand
Manufacturing of Caterpillar mini hydraulic excavators began with an 8-metric-ton machine in 1987 in Japan. Seven years later, the machines were introduced in North America. Today, there are 13 machines offered in North America ranging from the 300.9D that weighs less than 1 metric ton to the 308E2, which is an 8-metric-ton Tier 4 Final machine with a high-definition hydraulic system.
In the less-than-3-ton range, there are six machines (300.9D, 301.4C, 301.7D, 301.7DCR, 302.4D and 302.7D CR) that meet the various needs of operators on a wide array of jobsites. Cat has the 303E CR in its E Series lineup. The 3-metric-ton machine is the right solution for customers seeking an easily transportable machine for restricted areas, congested jobsites and demanding applications. The 60-in. width and 7,782-lb machine offers a compact radius design.
E2 series models including the 303.5E2, 304E2, 305E2, 305.5E2 and 308E2 offer a powertrain that provides optimized engine horsepower, says Cat. The machines offer fast, powerful digging with load-sensing hydraulics and flow sharing system as part of the integrated high definition hydraulic (HDH) technology. The HDH system allows the operator to work with precision while maintaining efficient performance.
Also, the COMPASS (Complete Operation Performance and Security System) display panel also comes standard in mini hydraulic excavators from the 303.5 up to the 308. The monitor offers such capabilities as: adjustable auxiliary control, continuous flow setting, auto idle selection and pass code protected security.
Advice to Buyers
"Understanding Tier 4 Final emissions solutions is important prior to purchasing a mini hydraulic excavator," says Jennifer Hooper, marketing development engineer with Cat. "Machines with a horsepower rating less than 25 do not require the same technology or service as machines with a higher horsepower rating."