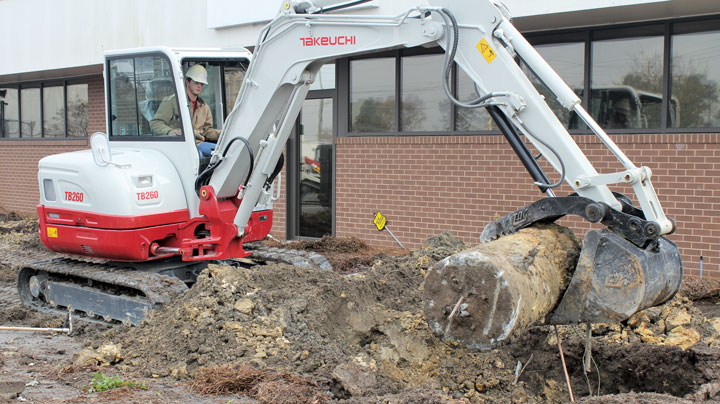 Evolution begins with the thumb. This is true for us mammals, and it's true for our machines. Take your regular old digging excavator, add in a thumb and suddenly you have doubled your efficiency and job possibilities — a single piece of equipment that can remove broken concrete chunks on a demo site or pick and place loads in delicate landscape work. But you know this. You aren't looking to just be more evolved than a monkey on the jobsite though; you want to outperform human peers. This means not just having thumbs but having the perfect thumb for the job.
Hydraulics Dominate
Thumb differentiation starts with two main groups — rigid and hydraulic. While both are mounted directly onto the arm of the excavator, a rigid thumb is static and dependent on the curl of the bucket to grab an object. On the other hand, a hydraulic thumb can be installed through the auxiliary hydraulic lines, which can be controlled from the cab, allowing both thumb and bucket movement. And while there are reasons you might pursue a rigid thumb, Mark Wall, product marketing manager, excavators, John Deere Construction and Forestry, says the hydraulic thumb is the only real choice for compact equipment.
He lists the reasons: "The hydraulic thumb offers far more versatility than a rigid thumb. The hydraulic thumb is easier to operate than a rigid thumb. The hydraulic option allows greater flexibility when grabbing and placing objects."
Michael Shebetka, product manager at Takeuchi, agrees that hydraulic thumbs are just the way to go, especially when you consider plenty of brands, like Takeuchi, offer auxiliary hydraulics as a standard feature on their excavators these days.
"For the minimal additional cost, the hydraulic thumb is the right way to go in most or all applications," he says. "In all the years in retail sales through a dealer, I do not remember seeing a mechanical thumb on a compact excavator."
The exceptions here, he notes, are brands with 9-metric-tons-and-larger models that have auxiliary hydraulics as an option, or excavators that are purchased new without auxiliary hydraulics.
"This is where the weld-on mechanical or rigid thumbs come in as a less expensive alternative on used excavators so the customer will not have to make an expensive investment to add auxiliary hydraulics," he says. "A weld-on mechanical or ridged is a good alternative if the customer occasionally has a use for a thumb."
"Some operators like the tines to intermesh between the teeth, while others prefer the tines contact the tooth at the tip. Customers need to work with their manufacturer and dealer to determine the best tine/tooth interaction for each bucket size."
Mark Wall, product marketing manager, excavators, John Deere Construction and Forestry
Design Options
Precision picking and placing from your thumb also demands a precise fit with your unit. This means matching with the pin-to-tip radius of the machine, ensuring the bucket and thumb are compatible, that the teeth and thumb tines integrate properly and the thumb tines do not extend too far beyond the lip to avoid interference with the stick and cab.
Wall says there are a bunch of considerations regarding the interaction of the thumb tines and the bucket teeth.
"Some operators like the tines to intermesh between the teeth, while others prefer the tines contact the tooth at the tip," he says. "Customers need to work with their manufacturer and dealer to determine the best tine/tooth interaction for each bucket size."
Measure the distance between the tines of the thumb and the teeth of your bucket to make sure that the tines will engage the bucket between the teeth. Not doing so may cause interference between the thumb
and bucket.
Another specification to look at is the weight of the thumb and thumb cylinder, which directly affects the overall stability of the excavator, especially over the side of the machine.
"While an overbuilt thumb might look impressive, an overly bulky thumb will affect the performance of the machine. Extra weight slows down machine functions and reduces lift capacity," Wall says.
All thumb manufacturers are required to publish the weight of the thumb and cylinder and list what machine weight class the thumb is intended for.
Matched to Applications
Pairing up the right thumb with the right job starts with understanding pressure. Does the thumb's cylinder provide enough clamping power for your workload? Moving large logs and rocks will require a higher pressure rating than moving scrap materials. Compact excavator manufacturers will recommend that the auxiliary hydraulic relief valve pressure is adjusted down from the original setting so that damage is not caused to the thumb's cylinder.
Then comes the structural design of the thumb. "In most cases, thumbs will be subject to harsh environments and tremendous forces being applied against them such as demolition, picking and placing large rocks and long objects such as trees," Shebetka says. "In my opinion and experience, the heavier built the better. When picking up long objects such as trees, this is where the wider four- or five-tine thumb works best for a better hold or grip. A two-tine thumb is better suited where visibility might be an issue if you need a good sight line past the arm."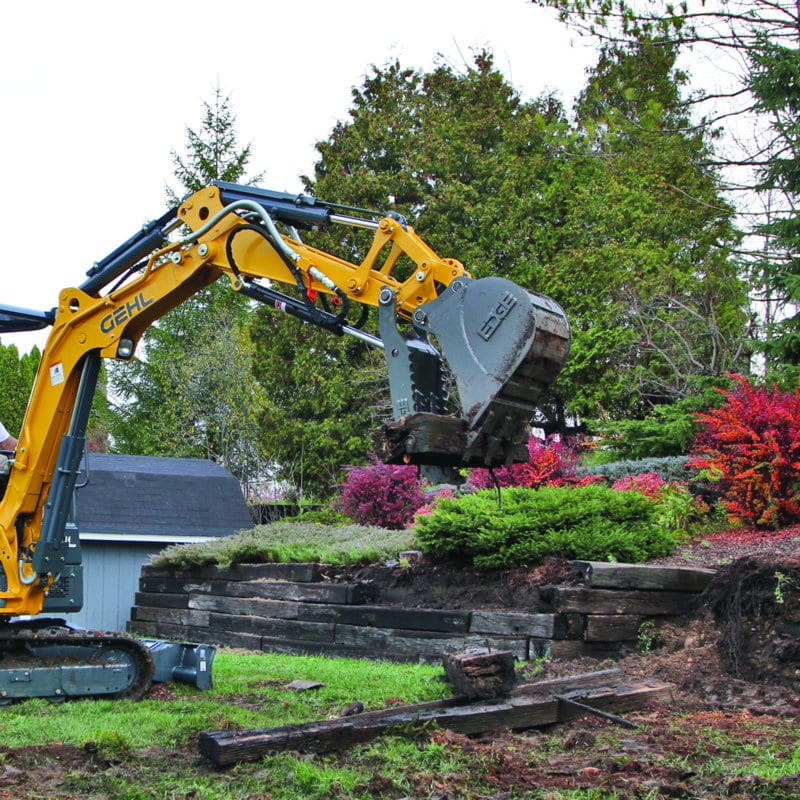 A thumb with more curvature can handle more material than a thumb that is less rounded. If you know that you will be handling large materials with your compact excavator, choose a more rounded thumb. It will make moving large materials a lot easier and save a great deal of time.
There's also progressive link versus non-link styles. Progressive link thumbs have an extra link that provides more rotation to follow the bucket and makes it easier to grip materials that have irregular shapes such as rocks and debris, like in forestry
applications. Shebetka says this will be your most expensive option, so definitely understand if that extra linkage is worth it for the jobs you regularly handle.
"Thumbs are designed by each manufacturer to fit its compact excavator," Wall says, noting that John Deere designs its thumbs with direct feedback from its customers. "They wanted the thumb and bucket to be able to pick up a variety of objects, including brush, tree limbs, concrete chunks, concrete slabs, landscape stones, etc. So we designed it with a shape to be able to meet these needs."
In the end, the main piece of advice from all manufacturers is to talk this all out with your dealer. Brand alignment can make your choices that much easier.
"It is important to try to stay with the same manufacturer for thumbs, buckets and couplers," Shebetka says. "It will be easy for one company to match up all three of their attachments. If not, there will be many required measurements to make sure your bucket will mate up to the other attachments so the manufacturer can build the thumb to match. In addition, there is not much room for error on measurements, and it can result in an expensive mistake if not manufactured properly."
Chris Crowell is a contributing editor for Compact Equipment.