If you run into setting fence posts and footers or planting trees on a routine basis, and you already own a mini ex, maybe it's time to consider an auger attachment for your digger tool carrier. Before you hurry to a dealership and buy one, it's important to know your application and some features to look for in an auger. The search starts with selecting the right auger drive for the work you expect to perform.
"The defining factors for moving dirt with an auger drive are torque and speed," says Mike Willis, sales manager for Danuser. "There are two common types of hydraulic drive units: direct drive and planetary gear reduction. Direct drive units generally spin faster with less torque, while planetary gear reduction units generally spin slower with higher torque. To select the right type of drive unit we need to know what the project is, what the ground conditions are and the host vehicle's gpm and psi. Digging 4-in. holes in well drained loamy soil with very few rocks won't require as much torque as digging 18-in. holes through heavy clay with lots of rocks."
Britta Kopp, marketing manager for Bobcat Co., adds that direct drive augers are useful in softer to moderate soil conditions, such as sand, dry material and light dirt so the hole being dug is cleaned out better. They're ideal for digging holes for posts, piers, poles or trees.
"Planetary augers are beneficial when digging into heavier ground surfaces such as rocky, coral or clay," she says. "They can deliver the power and force needed to dig in anchor applications and through other extreme ground conditions including rock, shale, clay and frost."
After you decide on which auger drive fits your project's parameters, it's important to make sure the host machine can support it. An auger attachment needs two-way auxiliary hydraulics and should be paired with a machine that has the proper auxiliary hydraulic flow and pressure requirements. Willis mentions that most auger manufacturers offer drive units that will work with as little as 6 gpm of auxiliary circuit hydraulic flow.
Auger bits are another important part of the auger selection process. You should choose bits that best fit the selected depth and diameter of the holes you'll be digging along with the ground conditions you expect to encounter. According to Shane Kincaid, customer service representative at Danuser, manufacturers offer four common types of auger bits: light-duty, heavy-duty, tree and rock.
"Light-duty bits have fabricated digging heads with bolt-on teeth and can be used in good soils that have few obstructions," he says. "Heavy-duty bits have cast heads with drive-in teeth for harsher and more difficult ground conditions, such as clay and fracturable rock. Tree augers are like two auger bits in one, with a small diameter on the bottom mounted to a larger diameter on top, to produce holes for planting trees. Rock bits are the toughest type and are made for digging in solid rock and concrete. Manufacturers offer a wide array, so do your homework and pick the best auger bit for your needs."
Sifting Through the Options
Augers are a popular attachment, and there are plenty of manufacturers who make them. Therefore, it's important for owners and operators to research different models and the brands behind those attachments.
"Do your homework. Research is very important when finding a new or used auger drive unit," says Willis. "There are several brands on the market so take a little time to research things like customer service, parts availability and brand longevity. A good dealer will work to pair you with the right equipment for your needs."
After finding an auger brand and model you like, the next question is: Do you rent or buy? Willis points out that most mini excavator owners typically own their auger attachments, and that hydraulic auger drives range in price from as low as $1,500 up to several thousand dollars for higher torque or specialty units. Of course, owners and operators need to evaluate their needs prior to deciding whether buying or renting is the best option for them.
"The decision depends on an operator's scope of work," says Kopp. "If the length of a contract and volume of work will sustain a long-term commitment, they'll likely purchase an auger attachment. A good guideline to follow is if the attachment is used 50 to 75 percent of the time then owners and operators tend to consider it a dedicated attachment. However, rental may be a viable option if they need an attachment for a single project or only a few times each year."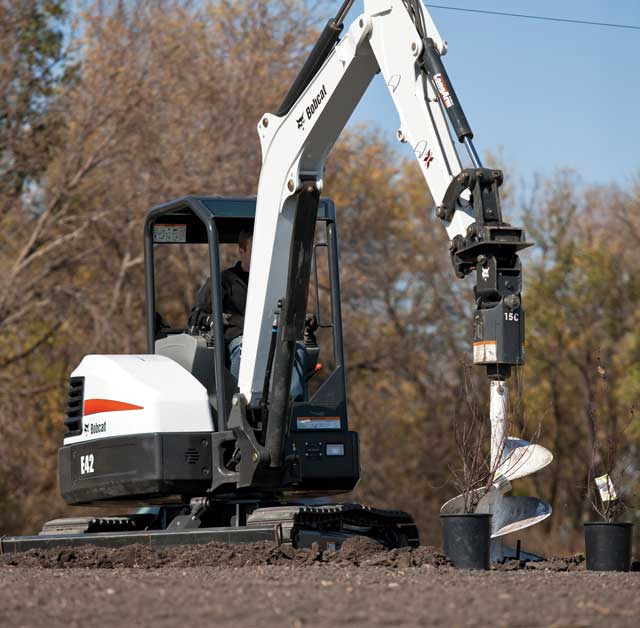 Ready to Work
Just like any piece of equipment, it's important to read the auger's operator's manual before getting to work. Kopp says trained and authorized operators should follow all safety rules, regulations and instructions when operating attachments, as well as get acquainted with the jobsite prior to using an auger. Operators should also take a few minutes to walk around their attachment, looking for potential problems.
"Getting a feel for the work area and looking for potential dangers such as underground or overhead utility lines, narrow roadways, sharp curves and soft ground conditions, is important," she says. "Operators should look around the jobsite to make sure there are no bystanders and use barrier tape, traffic cones or gates to keep other individuals and equipment out of the work area. All underground utilities should be clearly marked before excavating. If they're not identified, operators should call 811 to schedule a trained professional to identify the underground utilities."
In between jobs, operators need to keep an eye on the auger and make sure they're staying up to date on maintenance. Luckily, Willis points out that augers don't require much upkeep.
"Hydraulic drive units are generally very low maintenance," he says. "Routine maintenance includes checking for any leaks, ensuring bolts and fasteners are in place and secure, checking and changing the planetary gear oil [planetary gear reduction units only] and coating the inside of the auger or extension collar with grease each time before it's connected."
Willis says to use a piece of cardboard when checking for leaks because pinhole leaks under pressure can penetrate skin. Kopp also mentions that it's crucial to inspect the auger bits and teeth for wear and that the output shafts aren't damaged to ensure the attachment works correctly and efficiently.
---
What's Out There?
Check Out Two Auger Attachments from Bobcat and Danuser
The Bobcat 15C direct drive auger offers a higher range of speed for drilling holes quicker through softer to moderate soil conditions such as sand, dry material and light dirt so the hole being dug is cleaned out better. The 15C auger is 10.6 in. wide and 37 in. long and can dig to depths of 62 in. without an extension.
Danuser's EP Series offers operators heavy-duty performance at a great price point. The EP Series ranges from 6 to 35 gpm and up to 3,000 psi. Mounting is available for front-end loaders, skid steers, excavators, mini excavators and backhoes. With an innovative planetary design with fewer internal components that are completely sealed, the EP is ready to tackle any job.
Tags:
Attachment Central
,
Bobcat
,
Danuser
,
home
,
November December 2019 Print Issue