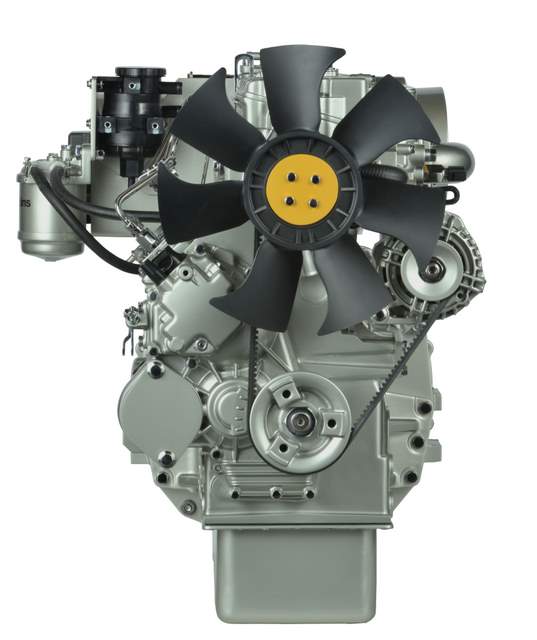 At the heart of compact construction equipment is the dynamic force of a diesel engine. Few companies can engineer the required strength and vigor of a compact diesel power plant like Perkins Engines, the U.K. headquartered global engine manufacturer. Perkins is apart of the Caterpillar family of companies today, but it still works with the same innovative engineering and manufacturing mission it started in 1932 — superior power, efficiency and durability.
Now Perkins can add cleanliness to that list of diesel engine attributes. The engine icon invited Compact Equipment down to its Griffin, Ga., manufacturing plant to see first-hand how it makes diesel engines. The company took the opportunity to showcase its newest 400F Series power plants, which are its first Tier 4 Final emissions compliant engines, engineered with next-gen technologies focused on producing a cleaner burning diesel solution.
"It's really an exciting time for us," explained Dean Lakey, Perkins product manager for the 400 Series range. "Our current 400D Series engines are doing so well and we have this exciting news for our 400F Series engines, which are Tier 4 Final and will be launched and manufactured first at our Griffin facility."
The Perkins Shibaura Engines plant in Griffin is a joint venture with long-time business partner for engines IHI Shibaura Machinery Corp. of Japan, dedicated to the production of compact engines. The 55,000-sq-ft facility is a pristine plant, and it's organized to produce two-, three- and four-cylinder engines sold into a wide variety of off-highway applications to both Caterpillar and independent OEMs. The site will also be the epicenter for the assembly of the new 400F Series diesel power plants.
"If you look at our competitors, none of them manufacture in the United States for this power band," says Lakey. "We're launching the 400F Series 18 months before releasing it to the public. We've sent some ripples out across the market. We put a stake in the ground."
Lakey's talking about the significance of meeting the final EPA standards for diesel engines early — something that's not required until 2013 (when these new units will launch) – but Perkins is saying it's ready now. Meeting this Tier 4 Final standard requires a whole new generation of after-treatment technologies that increases the size and complexity of traditional off-highway diesel engines. The new 400F, the latest addition to the popular 400 Series range, meets Tier 4 Final and Stage IIIB regulations for above 19kW (25 hp) and in the EU above 37kW (49.5 hp).
In keeping with its predecessors, the new 400F really gets to grips with the challenges facing today's equipment manufacturers. Its compact three- and four-cylinder lineup offers a seamless choice for original equipment manufacturers (OEMs) for their own model range development, while the transition from the current emissions legislation has been made easy for customers with a 97 percent carry over of components from the previous Tier engine.
The only addition that manufacturers will see is the after-treatment, including a sizable diesel particulate filter, which has been designed to be as compact as possible, with flexible mounting arrangements to ease installation. The after-treatment uses passive regeneration, with systems in place to provide active regeneration capability, effectively burning the soot in the diesel particulate filter to keep performance levels at their optimum. There is no impact on the duty cycle, so machine operation will not be compromised. Although an ash service at a minimum of 3,000 hours will be a new requirement, it's typically equivalent to years of operation without servicing.
To offset the price and hassle of these new technologies, the new 400F Series also delivers improvements in fuel consumption, which minimizes running costs, and heat rejection, giving improved ambient clearance. This maintains the compact engine installation dimensions so necessary in this market.
"We work very close with our OEMs to integrate our engine into their machines, and Tier 4 has certainly been more difficult because of after-treatment," explains Lakey. "But our goal is to see the impact of this minimized. We don't want to be in situation where we tear up our products and come out with completely new ones. We don't want our customers to tear up their machines and come up with new ones."
These issues and technologies are complex and important, so we've got Mr. Lakey below in an outstanding video explaining the process quite well. Look for more updates on Perkins and Tier 4 as more products are launched and more EPA regulations hit deadlines. – Keith Gribbins, Managing Editor, Compact Equipment
Tags:
Caterpillar