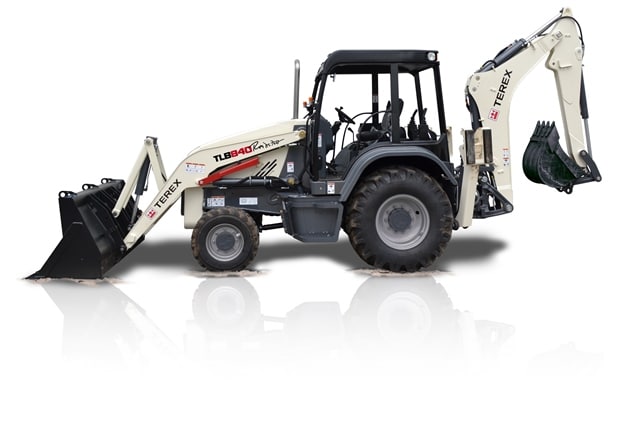 Heading to The Rental Show in New Orleans next month? Get ready to feast your eyes on the  rental-ready Terex TLB840R backhoe loader.
Unlike previous equipment releases, Terex configured its latest backhoe loader with the rental business owner in mind. The TLB840R is configured to meet the rental market's need for a low acquisition cost, high-performance backhoe, designed to give rental business owners a more immediate return on investment without sacrificing performance and or quality.
The TLB840R backhoe loader is equipped with a powerful 74-hp, Tier 4 final 4-cyclinder Deutz electronic fuel injection diesel engine, a 4-speed synchro shuttle transmission and a robust hydraulic system to excel at digging, reaching, lifting and loading tasks. The engine, transmission, and hydraulic systems have all been designed for easy maintenance by rental company technicians and mechanics.
"In the past when we've launched new products, they have been primarily designed with owner/operators and our distribution base in mind — we factored in features and benefits that we thought were important for rental, but with the TLB840R we took a good hard look at the needs of our rental customers and configured this backhoe loader specifically for the market," says Gary Dennis, vice president and general manager of Terex Construction Americas and Global Aftermarket. "With the growth forecast for the North American rental industry continuing to be encouraging well into 2017, we took the opportunity to poll our customers in the rental community to gain a better understanding of the market's specific needs, and what we can do as Terex to help them be more competitive. Because rental rates are driven by equipment acquisition costs and utilization, we focused on a product that would be competitively priced without sacrificing quality and features our backhoe products are known for, at a price point that drives return on investment for our customers."
With a 9,441 lbf bucket breakout force, a loader lift capacity of 7,291 lbf and bucket capacity of 1.0 cubic yard, this new Terex backhoe loader offers high-capacity production to tackle any project a customer needs a backhoe for. Terex has designed this unit to give operators unrestricted visibility to the bucket edge, which is ideal in grading applications. The curved boom design and up to 13-ft 5-in. loading height (with an extendable stick) of the new TLB840R backhoe loader offers operators excellent clearance to reach up and over obstacles, as well as and the ability to load closer into trucks for greater productivity.
This rental-ready backhoe loader comes standard with 4-wheel drive, tilt steering wheel, suspension seat and selectable pattern change pilot controls. It can be ordered with either a canopy or fully enclosed cab that includes heat and A/C, as well as a choice of a standard or extendable dipperstick. All Terex TLB840R backhoe loaders are equipped with a fully tilting hood for easy access to all service points, including the engine, oil cooler, radiator and air cleaner.
"As we've worked to strategically align our company and our equipment to be rental-ready," Dennis says. "We identified that our current TLB840 backhoe loader is a great machine for owners/operators but wasn't the right fit for the rental market. What the rental market really needed was a reliable unit, that's cost-effective to maintain, with a competitive acquisition cost, easy to operate and delivers a superior return on invested capital to the rental houses. Within 12 months of identifying these needs, Terex is proud to introduce the TLB840R backhoe loader — a unit we have specifically designed and priced for the rental industry."
The new TLB840R will be on display at The Rental Show, Feb. 23-25 in New Orleans, in Booth #8247.
Tags:
Rental Equipment
,
Rental Industry
,
Terex
,
The Rental Show