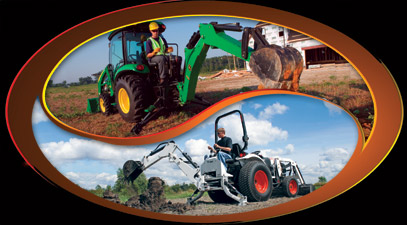 On a compact utility tractor, the yin to the loader's yang is the backhoe attachment. As it is, a compact tractor is a useful tool for everyone from residential construction contractors to landscapers to hobby farmers. The standard loader at the front end makes quick work of a variety of jobs around the site or yard. Adding a backhoe at the back opens a wealth of possibilities for the operator. Few tasks are outside of a tractor's reach once a backhoe is on board. In fact, a tractor without a backhoe looks somehow…naked. To help compact tractor owners access the machine's full capability, CE spoke with some of the leading manufacturers of compact utility tractors and backhoe attachments to get the lowdown on getting the hoe down.
It should go without saying, as with all tractor attachments, the owner needs to consider the host machine and the size of the implement. For example, Bryan Zent, marketing manager for Bobcat Co., points out that any Bobcat compact tractor needs to be equipped with a front-end loader when attaching a backhoe (it's a balance issue). "The loader acts as a ballast or counter-weight to the backhoe," Zent says. It should also be noted that some tractors must be equipped with a rear hydraulic valve to operate the backhoe.
Options for backhoes tend to increase as the tractors grow. "For our smaller compact utility tractors you'll only have one backhoe option, but on the larger tractors you'll have a couple to choose from," says Sean Sundberg, strategic marketing manager for John Deere.
Buyers have any number of decisions to make when looking for the right backhoe attachment. Bobcat keeps it relatively simple with its 6TB backhoe attachment (77-in. dig depth)compatible with all of its compact tractor models. North Carolina-based Kioti specializes in compact tractors and offers a variety of backhoe attachment models differentiated by dig depth and force measurements. Models range from the KB2365 (76.4-in. dig depth) to the KB2395 (10-ft, 1-in. dig depth). John Deere offers six different backhoe models ranging from just more than 6-ft digging depth to almost 9 ft.
Several third-party companies manufacture backhoe attachments and distribute them under a unique brand or work with tractor manufacturers as OEM suppliers. Paladin, CE Attachments and Woods Equipment Co. are a few of the more well known third-party/OEM backhoe attachment manufacturers. A comprehensive list can be found in CE's annual Attachment Buyer's Guide or online at www.compactequip.com.
"The job will dictate the kind of machine and attachments you'll need," explains Sundberg. As is always the case when acquiring new equipment, the buyer needs to take a long look at the kind of work the machine will perform. Backhoe attachments have a wide range of uses. "There are tons of different things you can do with a backhoe," Sundberg continues. "Of course, almost all involve digging."
Understand Yourself Before Seeking the Wisdom of Others
With a backhoe attachment, contractors can turn their small chore tractor into a digging machine, able to dig for everything from electrical lines to plumbing. Given that most utilities lie 5 ft below ground level, a backhoe attachment is nicely suited to that application.
Compact tractors hit their stride on a landscaping site. "Landscaping applications are where the compact utility tractor really shines," says Sundberg. "For example, you can trench with the backhoe, quickly remove it and attach a box blade to the rear to level over the top."
Once the buyer has given ample consideration to how exactly the equipment will be used, he or she is ready to find a dealer. Arrive with a set of questions in mind, but the best salespeople will not only be ready to answer questions, but will ask a number of questions of the buyer.
"The best dealers will ask the questions to get you to the right attachment," Sundberg explains. Everything from dig depth to frequency of use will come into play.
The dealer should be able to walk the buyer through the attachment procedure. Bobcat and Kioti backhoes attach via a subframe bolted to the frame. Smaller John Deere models attach similarly, while larger models attach directly to the rear rockshaft on the tractor via a quick-attach system The latter is a three- to five-minute procedure.
"For peace-of-mind assurance that your backhoe will be compatible with your tractor, buy a backhoe specifically designed for your tractor from the manufacturer," Zent says. Zent also mentions that buyers should test drive a few backhoes to get a feel for the controls.
As mentioned above, backhoes can typically accommodate a few different bucket sizes. Typically, bucket sizes range from 9 to 36 in., with the 24-in. size being most common, according to Sundberg. Anticipating the size of the bucket needed is important when choosing the proper backhoe attachment. Since larger buckets not only weigh more empty, pushing them into the earth requires greater force. Not only that, the occasional surprise may crop up in the middle of a dig in the form of a buried rock. If the backhoe is pushed to capacity by a simple digging operation, it might not be able to meet unforeseen challenges.
Of the companies CE contacted, only John Deere had a model, the 110TLB, able to add a thumb to the bucket (see February CE for more on the enhanced utility of a bucket-and-thumb combo). Using optional rear hydraulics, John Deere compact tractor can power hammers and augers from the rear of the tractor as well as thumbs.
A typical backhoe attachment will run in the $3,500 to $8,000 range, but the enhanced utility gained will cover that cost fairly quickly.
A Fall into a Ditch Makes You Wiser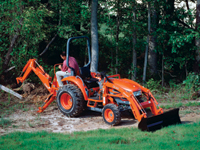 While mistakes can lead to life lessons, it's best when working with machinery to think ahead and avoid mistakes. Zent mentions that all new and experienced operators of backhoe attachments should consult the operator's manual before powering the equipment up for the first time.
Sundberg offers safety and maintenance considerations of which to be mindful. Proper maintenance will greatly lengthen the life of the tractor and any attachments. Make sure all moving parts are adequately greased before operating and take care when cleaning not to compromise seals and lubrication by over-blasting the machine. Keep equipment as clean as possible — trouble spots are easier to spot on a clean machine — but bear in mind that these are machines designed to get a little dirty, so they need not remain immaculate. A good hosing off will be enough to keep the tractor and attachments clean.
First-time operators should operate the machine far away from anything that could be damaged until they're used to the controls. Additionally, operate at lower RPMs initially while getting acclimated to the controls. Higher RPMs mean jerkier movements for less-experienced operators.
Sundberg notes that operating the backhoe with the rear stabilizers down is critical. "Also, lower the loader on the front end while using the backhoe," he says. "Picture it like a three-point stance with the loader and stabilizers bearing the brunt of the force as the backhoe works."
Verify and mark the location of utility lines in the work area. The so-called backhoe fade — a telecom industry term for loss of service when a backhoe severs a line — sounds cute, but ripping a buried power or water line in a residential area is a frightening possibility.
Questions are the key to finding the right backhoe attachment for a compact tractor. By asking and answering the right questions, any first-time buyer will be well equipped to get the best attachment the first time. From there, it's just a matter of hitching up and getting to work.
Greg Thompson is a contributing editor of Compact Equipment, based in Peninsula, Ohio.
DIY Machines
There's an old saying that if you give a
person a backhoe, they'll use it for the life of the machine, but if
you teach that person how to build a backhoe, they'll have one forever.
It's close to that anyway. With that in mind, consider UBUILDITPLANS.COM, a Web-based storefront that offers plans for building mini-bikes, dirt buggies, go karts and backhoes.
A quick visit to the Web site (www.ubuilditplans.com) offers access to nearly everything you need to build your very own Ground Hawg backhoe or backhoe attachment.
Plans
for the stand-alone, towable Ground Hawg run $69.95, with a combo
package available for $79.95 that includes plans for a universal thumb
attachment. Attachment model plans (both three-point and skid steer)
are $79.95 ($89.95 with thumb plans), but that's just the beginning.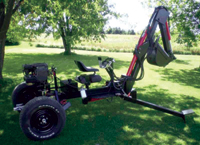 Materials
can be purchased in individual sets or combined into starter kits. The
Ground Hawg starter kit includes all of the critical parts, cut and
precision-drilled, needed to build the machine. The 58-piece kit
includes the boom pivot assembly and brackets, bushings and housings,
boom plates, dipper arm plates, bucket brackets, bucket links and front
and rear swing plates. The site recommends purchasing the larger parts,
the boom, frame and floor sections, locally to avoid high shipping
costs. A local steel supplier should be able to provide these parts.
The Ground Hawg starter kit for the standalone model is $959.95 and for
the attachment model $999.95.
The
site is full of photos, videos and testimonials from enthusiastic
DIYers. One user, Tommy J., writes: "After about five or 10 minutes of
practice, I got the hang of it and was digging like crazy."
Norman raves, "I just finished my backhoe and it works great! You were right on the 8-horse engine; there is plenty of power."
The
Ground Hawg can be wheeled into position like a wheelbarrow and is
light enough that it doesn't tear up the soil with its wheels or get
stuck in the muck. UBUILDITPLANS.COM
offers telephone support on all purchases, just in case you run into
trouble. Chances are, though, if you're building your own backhoe,
you're enough of a maverick to get yourself out of a bind.
Tags: backhoes