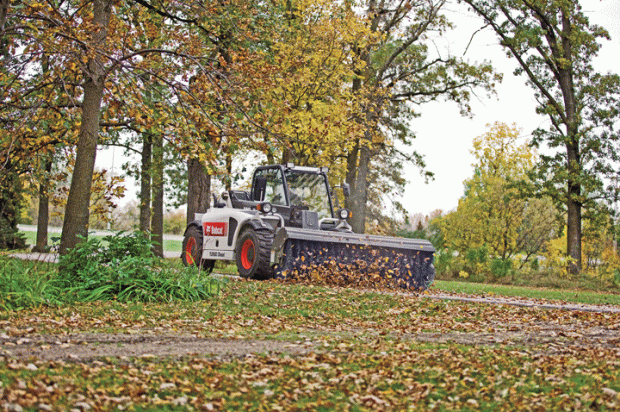 Compact telehandlers — otherwise known as telescoping material handlers — have morphed into tele-sweepers and tele-snow blades. No longer are they the one-dimensional machines originally derived from fork lifts. They still lift, of course, but they also trench and scrape and mow by utilizing a full array of boom attachments.
"What our customers are starting to realize is that the telehandler is not just a lifting machine any more, as it historically has been," says Stuart Fox, JCB material handling product manager. "Up in the Northeast, there are all kinds of JCB 525-60 Hi Viz units are being used to clear snow from parking lots and especially parking garages, where the compact dimensions of the 525-60 allow the machine to get to the top level."
This evolution of the compact telehandler from lifting machine to all-purpose machine was made possible by two developments. The most obvious one is the adaptation to the telehandler of tools designed for skid steers and backhoes. As those attaching tools have proliferated, the versatility of the telehandler has grown.
The other development was at the factory where telehandlers were re-engineered to handle the stresses and requirements of specialized boom-end tools beyond pallet forks and baskets. Without these engineering advances, the utility of the telehandlers would be much less. JCB prides itself on fabricating its booms, whether compact or full-size, from a single steel plate, with just two welded seams — half that of its competitors. "Just welding a boom together, over time the stresses will get to it," says Fox.
Genie also offers formed boom tubes on the GTH-5519 as the JCB machines. However, the company is quick to note its experience has been that a boom can be made just as strong (and even stronger) by welding four different plates together as material can be optimized where it is needed, so it all depends on who you talk to.
New stresses on telehandler booms include ground-level frontal impact — such as when a telehandler scooting a snow blade across a parking lot strikes a slightly raised manhole cover. Boom! "Twenty years ago, the boom structures on a telehandler weren't made to do that," says Thomas Connor, Bobcat product specialist. Initially a kit was developed for strengthening the connection between the bottom of the boom and the main machine, but Bobcat ultimately re-engineered its telehandlers, including the compact VersaHandler V417 model, and incorporated stronger boom components.
Yet extended booms remain more vulnerable to attachment stress than when a tool is mounted more directly to a frame, such as the front of a skid steer. Consequently, some tools are not considered ideal for a telehandler. Anders Mantere, Terex/Genie telehandler product manager, cites the auger as a problematic tool for compact telehandlers like the Genie GTH 5519.
"We want to give our customers longevity in their equipment, and some applications are not suitable," he says. "We caution people about using augers. If you're digging a posthole in soft ground, well, OK. But in hard ground, augering sends a lot of vibration to the boom. We would suggest a skid steer for that work."
JCB dealers recommend against mounting hydraulic hammers on their telehandlers. "Right off the bat, we are going to be advising against anything that creates a lot of vibration," Fox says. "We would advise against using a hammer. You want to take care of your investment, and a hammer creates so much vibration and so much wear and tear on a machine."
Attached tools that need auxiliary hydraulic lines to function — to tilt or rotate or pinch — are commonly served by one or more auxiliary lines as standard fittings; the Genie 5519 offers up to four lines total. Electric plug-ins also are common at the end of the boom where some attachments need juice. Hydraulic flow to the attachments varies by manufacturer from 18 to 19 gallons per minute (gpm) up to 22 gpm. The JCB 525-60 offers 24 gpm on its agricultural models.
This means that attachments needing high-volume hydraulic flow — typically in the 33-gpm range — aren't going to work on compact telehandlers. "These telehandlers," says Connor, "operate in the realm where boom-end tools need standard hydraulic flow."
They operate very well in that realm, thanks to other engineering. Telehandlers like the Bobcat V417 use hydrostatic drive systems so operators can differentiate between ground speed and hydraulic system flow. "In order to use some attachments, you need to be able to bridle the speed, so we have an engine throttle pedal that lets the operator destroke the drive to slow and stop the machine but with full throttle," says Connor. There also is a creep mode for trenching or pushing and filling dirt buckets.
JCB's 525-60 comes standard with constant flow hydraulics but, unlike some competing models, settings for the flow on the JCB unit are infinite. "Some manufacturers will give you preset flow options of 25, 50 or 75 percent, for instance," says Fox. "But with the 525-60, I can set that flow rate anywhere between zero and 100 percent. I can set it at, say, 63 percent if that is ideal for an attachment."
Simple tools are mounted to a boom either manually or hydraulically. Most Genie GTH 5519 telehandler operators prefer to work in an open cab, so manual hook-ups are OK. But that changes when the machine is worked in extremely cold or hot areas of the country where leaving the comfort of the cab is not ideal. "More convenience is sought when the cab is enclosed, and customers can opt for hydraulic quick-attach system where the operator change attachments without exiting the cab," Mantere says. He adds that hydraulic attachment units tend to go to end-users instead of rental houses, which is the biggest Genie telehandler market.
Some mounting systems are universal, some proprietary. Bobcat, for example, offers 20 attachments for the V417 that are coupled to the machine using the mechanical Bob-Tach technology, which the company first developed decades ago for its skid steers.
JCB offers three mounting systems — a standard tool carrier design, the Q-Fit, which is for JCB tools and is especially popular in the agricultural market, and the universal skid steer mounting system. "We previously had to use an adaptor plate for skid steer mounting, but that meant more weight," says Fox. "Now we have a direct mount so you can pick up a universal skid steer attachment and get the full effectiveness of it."
Because telehandlers now are designed for more work at ground level, visibility at that level is a consideration. When lowered booms fit flush to the body, telehandler operators have a more open view of the worksite to the right of the machine. This visibility factor varies from manufacturer to manufacturer.
In recognition of the strength of the rental equipment market, Genie offers the GTH-5519 with optional rear proximity alarms to aid the operator in detecting obstacles behind the machine when reversing. The machines can also be ordered prewired for the system. This allows owners or rental companies to simply add the system when needed and generate additional revenue from the system.
The compact telehandler is sometimes referred to as a Swiss Army knife-type machine. Even so, it is not all things to all manufacturers. Not every brand offers a man-lift platform attachment, for example. Bobcat has opted not to pursue that market, according to Connor. Nor does JCB, Fox calling it "sort of a gray area." However, Genie offers two sizes of personnel work platforms for the GTH 5519.
So the versatile compact telehandler has expanded its presence in construction, landscaping and animal husbandry-ag industries. The expansion continues. "I can tell you a lot of construction contractors may have gotten one of these machines for homebuilding projects, to lift some lumber, maybe do some dirt work," says Connor, "but they are moving snow in the winter with it, too."
Dig, Move, Lift
Wacker Neuson Telehandler Personifies the Three Machines in One Concept
Compact telehandlers are coming to America. Hugely popular in Europe in industries like agriculture, compact telehandlers have the tool taking abilities to infiltrate lots of U.S. sectors. Wacker Neuson's new TH522 is a perfect example. This unique ground-engaging telehandler offers a versatile three-machines-in-one concept. The TH522 is designed to be used with ground-engaging attachments and can work like: 1) a wheel loader to dig and carry; 2) a skid steer with a compact footprint capable of using a multitude of attachments; and 3) a telehandler with a lift height of 16-ft, 7-in. and operating capacity of 4,100 lbs.
The TH522 is powered by a 60-hp Tier 4 Final turbocharged Perkins engine that delivers performance and speed on the jobsite. The machine comes standard with a top travel speed of 19 mph and auxiliary hydraulic flow of 18 gpm. Increased versatility is available with the standard universal attachment plate and faster quick-connect hydraulic connection block making the TH522 compatible with most wheel loader and skid steer attachments. Wacker Neuson's new TH522 features a spacious cab system that maximizes operator comfort by increasing overall volume and visibility.
For more info, visit wackerneuson.us.
Giles Lambertson is a freelance writer for Compact Equipment.