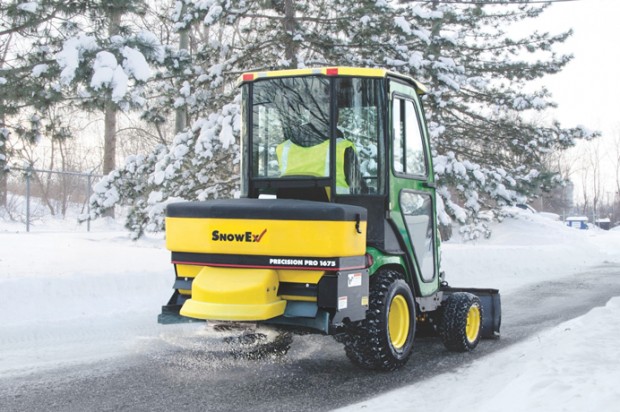 The Attachment Awards honor the best attachments and implements released in the past year. Congrats to these innovative attachments for being the best new products introduced to the market in 2014.
SnowEx's SP-1675 Precision Pro
The Precision Pro is a unique product for spreading salt on sidewalks. Unlike drop spreaders, which have a fixed spread pattern, the Precision Pro provides variable width adjustment to accommodate a variety of sidewalks and walkways. Also, it offers more precise width adjustment than traditional rotary spreaders, helping prevent salt from being thrown onto grass, landscaping and other unwanted areas. The SP-1675 Precision Pro has a 6-cu ft capacity. A unique volumetric vane feed system provides consistent material flow to the spinner, while eliminating the need for a gate, since no material can leak out when the spreader is turned off. To ensure even material distribution, the spinner is located in the center of the unit, and the feed rate and spread width are independently adjustable for maximum material control. For more info, visit snowexproducts.com.