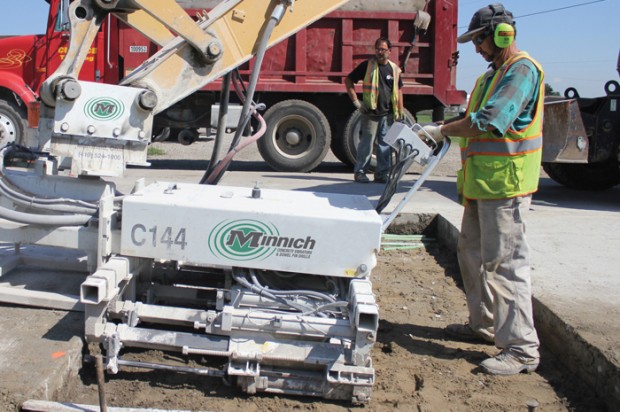 The Attachment Awards honor the best attachments and implements released in the past year. Congrats to these innovative attachments for being the best new products introduced to the market in 2014.
Minnich Machine-Mounted Drills
Minnich Mfg.'s series of machine-mounted drills are now available with a number of features engineered to increase safety and productivity in dowel-pin drilling applications and are available in both hydraulic and pneumatic options. Primarily used for full-depth repair, or "patchwork," Minnich Mfg. offers excavator-, backhoe- and skid steer-mounted units that are ideal for horizontal patchwork jobs with a relatively long distance between the areas to be drilled. Apart from increased portability, the dowel pin drills are also a safe alternative for operators. Minnich's pneumatic machine-mounted drills are powered by a compressor, mounted to the counter-weight of the carrier or in the bucket of a backhoe, offering a self-contained solution for patchwork jobs. For more info, visit ow.ly/ndj4a.