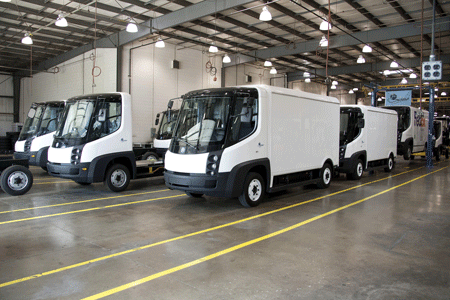 What a difference a year makes. Last August, President Barack Obama traveled to Navistar's manufacturing facility in Wakarusa, Ind., to announce a $39.2 million grant funded by the American Recovery and Reinvestment Act and administered by the U.S. Department of Energy to develop and deploy electric trucks. One year later, Navistar's eStar all-electric truck is coming off the production line and making its way into some of the nation's most environmentally focused fleets.
All-Electric Buzz
Following a production kick-off at the Wakarusa plant in May and introductory launch events in Portland, Ore., and Sacramento, Calif., in May and June, the eStar all-electric truck is generating significant interest in the marketplace.
 
"In just the last two months, we've seen a number of customers — large and small — express interest in the eStar all-electric truck," said Mark Aubry, eStar's vice president, sales and marketing. "We've delivered eStar trucks to FedEx and Pacific Gas & Electric Co., and with vehicle orders in the pipeline, we continue to work toward our goal of building 400 units this year."
Customer Support
As customers begin taking delivery of the eStar vehicle, Navistar continues to build and develop its sales, service and support network through local dealerships in key markets.
In the Pacific Northwest market, Cascadia International Trucks of Tacoma, Wash., brings more than 50 years of commercial truck experience and will provide all sales, service and parts needs for eStar customers in the region.
Navistar also has added dealers in the Northern and Southern California markets — Riverview International Trucks Inc., of West Sacramento, and WESTRUX International of Sante Fe Springs, Calif., respectively. There are additional expectations to open other Midwest and East Coast dealers within the next 45 days.
Leasing Opportunities
As customers weigh their options in acquiring eStar all-electric trucks for their fleets, Navistar offers a number of customer-friendly, flexible financing options. In fact, Navistar's eStar is the only production electric truck that can be leased.
"Production of a commercial electric vehicle is a significant and important milestone for the marketplace," added Aubry. "To be able to offer flexible leasing opportunities is a first for any company in this space and shows Navistar's commitment to deliver innovative solutions to meet customer needs in newly developing areas, such as the eStar all-electric truck.