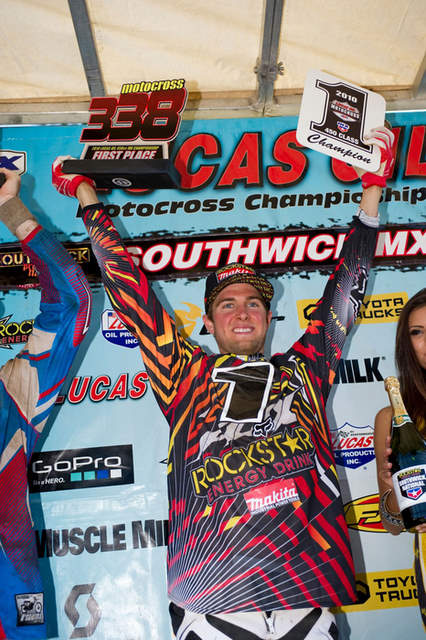 Makita Industrial Power Tools has extended its presence in racing and action sports as it becomes the Official Power Tool of the Outdoor Motocross Championship for 2011. Makita is an established member of the motocross community through its title sponsorship of the Rockstar Makita Suzuki Factory Race Team. Makita is taking its support of the sport to the next level by assuming the role of a supporting series sponsor.
 
"Since 2005 when we showed up at the motocross races with our Makita rig, our commitment to the fans, the teams and the motocross discipline has continued to grow each year," said Brent Withey, Makita brand director. "When you look out in the parking area it's all about lifted trucks with tool boxes in the back. That's our customer, the one with a power tool in his hand all week and a hand on the throttle all weekend. Our partnership with motocross is an awesome opportunity for fans to experience Makita's leading innovation."
 
"We are extremely excited to welcome Makita as the Official Power Tool of the Lucas Oil Motocross Championship," said Mark Carter, GM of strategic partnerships for Alli Sports. "The brand has been one of the most familiar names in the sport for many years and because of the tremendous respect they've generated in the industry, going into partnership with them was a natural progression."
 
Dungey Returns to Defend Title
The Rockstar Makita Suzuki Factory Race Team returns to motocross with defending champion Ryan Dungey and 2010 runner up Brett Metcalfe. On Saturday in Las Vegas, Dungey was just short of winning another supercross title in what has been called the greatest supercross season ever — and the fans responded with record attendance and full stadiums. There are only two weeks between seasons and with most of the same top riders returning to compete outdoors, and fans are anticipating an extremely competitive 2011 motocross season. With select broadcasts airing on NBC and SPEED, there will be plenty of fans along for the ride.
 
Makita Experience More
Makita's will have a significant on-track presence with the Makita Mechanics Row, a 120-ft active trackside pit area. In addition to the action on the track, Makita's presence will also be felt throughout the summer with its Experience More Tour. The one-of-a-kind 53-ft interactive tool display on wheels will activate at each round and allow motocross fans an opportunity to experience and feel Makita's innovation through interactive displays and hands-on tool demonstrations. Furthermore, Makita will be extending the reach of motocross throughout Makita's extensive dealer network as well as to jobsites across America.
 
Makita's Growing Presence in Racing and Action Sports
Motocross is a part of Makita's growing presence in racing and action sports, both as a sponsor and as a power tool of choice in the pits. Makita and it's long term partnership with Factory Suzuki has yielded over 20 championships in Supercross, Motocross, Superbike, ATV, and amateurs — including Ryan Dungey's historic 2010 championship run in supercross and motocross. Makita is also a sponsor of Metal Mulisha's Brian Deegan and the Rockstar Makita LeDuc Racing Team in off road racing, as well as the Scheuring Speed Sports Makita Tools Snocross Team. Makita is also the Official Power Tool Sponsor of Major League Soccer (MLS), as well as the Mexican National Soccer Team (FMF).
 
The 2011 Lucas Oil AMA Pro Motocross Championship kicks off on Saturday, May 21 from the Rockstar Energy Hangtown Motocross Classic in Rancho Cordova, Ca. Tickets are on sale at www.allisports.com.