Nevermind the Academy Awards, Golden Globes or American Music Awards. In the CE office, all the buzz is focused on the new Medium-duty Commercial Truck of the Year award. It's the first medium-duty commercial truck award given by the American Truck Dealers (ATD) based on innovation, design, fuel economy, driver and owner satisfaction, ease of maintenance and safety. This year's big winner — Hino Trucks model 268.
"All the trucks in this year's event were fine examples of the great strides the manufacturers have been making in developing new products," said ATD Chair Pamela Hall and dealer-owner of Hall Volvo, GMC, Isuzu and Hino in Tyler, Texas. "The winners brought the best combination of new features, driver comfort and safety systems." The judging panel consists of journalists from leading truck publications in North America.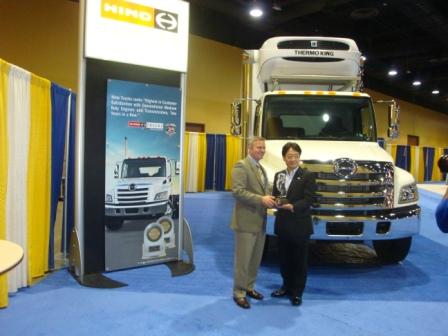 In addition to this product achievement, two Hino dealers were nominated by their peers as "Truck Dealer of the Year". The dealers are Greg Lesher, President of Lesher Mack Sales & Service, Inc., in Lebanon, Pa., and Ron Meyering, President of M & K Quality Truck Sales in Byron Center, Mich. It is a national industry award presented by the American Truck Dealers and Heavy Duty Trucking magazine and recognizes excellence in business practices, industry leadership, civic contributions and community service.
Sumio Fukaya, President and CEO of Hino Trucks, accepted the award on behalf of the Company and said, "We are proud of these recent accolades. The Truck of the Year award acknowledges the countless efforts our Hino Team endures to create an outstanding product our customers can rely on. And, we want to thank the ATD and the National Automotive Dealers Association (NADA) in giving attention to the important medium duty truck market by creating this new category for this coveted award."
Hino Trucks is poised to become the premier brand in the medium duty truck market and have an exciting new product for 2011. Hino's model 268 truck is equipped with Hino's 2010 compliant SCR system, making it the only medium duty conventional truck to meet the stringent 2010 EPA Emissions Regulation without using credits. Hino's proprietary engine has received the J.D. Power and Associates Awards for "Highest Customer Satisfaction with Conventional Medium Duty Engines and Transmissions," Two Years in a Row.*
*Hino received the highest numerical score among conventional medium engines and transmissions in the proprietary J.D. Power and Associates 2008-2009 Medium Duty Truck Engine and Transmission Customer Satisfaction StudiesSM. 2009 study based on responses from 1,589 responses measuring 7 manufacturers. Survey was of primary maintainers and owner operators and measures opinions of primary maintainers of two-year-old (by model year) Medium Duty (Class 5, 6, and 7) trucks. Proprietary study results are based on experiences and perceptions of consumers surveyed in July – August 2009. Your experiences may vary. Visit jdpower.com.
Tags:
Volvo