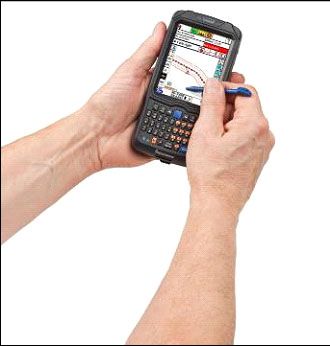 Assistant editor Pam Stask here. So much for a lazy Friday. Just as I was beginning to slip away and daydream about my weekend, CE managing editor Keith Gribbins snuck in one more Bauma update from his travels in Munich.
At the show, Trimble introduced a new field controller and software solution specifically designed for site inspectors and project managers on the construction jobsite. Incorporating both the new Trimble TCA1 Controller with SCS700 Site Controller Software, the Site Inspection System provides an easy-to-use solution that addresses daily measurement and positioning needs. For construction organizations, the more workers are empowered with positioning and measuring tools, the more money and time they can save due to increased efficiencies.
The Trimble TCA1 is a key component of the Trimble Connected Site portfolio of productivity-enhancing construction solutions that streamline the workflows between the head office, field crews, site supervisors, site inspectors and machine operators.
The Trimble TCA1 and SCS700 allow construction professionals to easily conduct accurate measurements such as site reconnaissance, progress measurements, as-built measurements and site inspection. Using the TCA1 connectivity features, site inspectors and projects managers can immediately connect to the office for on-the-spot approvals and for communicating changes to field crews. From the field to the truck cab and the office, users can stay connected and work faster, increasing their efficiency and productivity. With instant Internet access capability from the construction site, there is no more delay associated with driving data to and from the office and field. And there is no need to take multiple devices into the field or pay for multiple separate cell phones and data subscriptions. 
Trimble TCA1 Controller
The TCA1 is ideal for use on the construction jobsite; it features a 3.75G wireless mobile computer that combines a rugged design with a small, light-weight form factor that fits in a safety vest pocket. The high-performance TCA1 can be used for both voice and data communication on the construction site or anywhere else. Other features of the TCA1 include integrated GPS, a 3.1-MP camera with flash, a QWERTY keyboard, a barcode and document scanner, a digital compass and accelerometer — all allowing for the collection of a wide range of site information for documentation and quality control. The TCA1 weighs just 12 oz, has an IP54 rating and can withstand drops up to 5 ft. It comes standard with an extended life battery for all day operation in the field.
In addition to conducting site measurement tasks, contractors can use the TCA1 to send and receive e-mails, make phone calls and synchronize data with the Trimble Connected Community, Trimble's information management system for communication, collaboration and greater construction site efficiency.
With the optional ability to connect to an external GPS receiver, the TCA1 can also operate with a Trimble GNSS receiver to obtain precision GNSS measurement accuracy.
Trimble SCS700 Site Controller
Trimble SCS700 leverages the same design data used by engineers, grade checkers and supervisors but is packaged with the TCA1 to offer more targeted functionality at more economical price point for site inspectors, project managers, geotechnical engineers and small site contractors. The TCA1 built-in connectivity, camera and GPS, allow site users to record information such as site issues and send the information with photograph and location back to the office. This enables immediate action to remedy the situation in the most efficient manner and can reduce waste of materials, time, and labor.
Site inspectors can leverage the measurement functions of SCS700 while storing important information about the objects they are inspecting such as material type, condition, a photograph, date and time. They can record as-builts and compare work completed against the design to verify that proper work was completed against the specification.
Geotechnical engineers can use SCS700 to quickly and efficiently navigate to correct locations to take soil measurements. They can record their results via SCS700 and remotely send the information to the headquarters for timely processing, saving the time and effort of driving the data back from the field.
The Trimble TCA1 and Trimble SCS700 Site Controller Software are expected to be available through Trimble's worldwide Heavy and Highway Construction Distribution Channel in the second quarter of 2010.