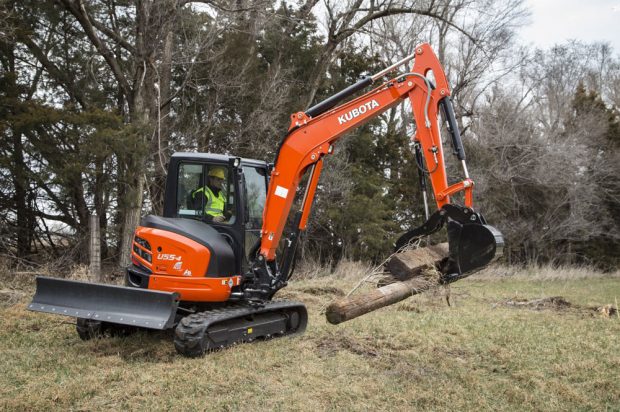 Compact track loaders, skid steers and excavators are the backbone of the jobsite, and when equipped with performance-matched attachments, they can take versatility and productivity to higher levels. When contractors add attachments to their work fleet, they increase the value of the machine and the efficiency of the workers by allowing them to handle a wider variety of jobs.
"With 40-plus Kubota branded attachments, it allows the contractor to identify and match specific tasks with the proper tool," says Patrick Baker, construction equipment product manager. "By having the task and tool matched, it allows the contractor to make the best use of their time and money. For example, if you wanted to clean around the site and you only had a bucket on your power unit, the contractor may be forced to pull multiple workers to push brooms and shovels to help clean; when utilizing a hopper broom one worker could do more in less time. Having attachments gives the contractor options for timesaving's in just about every area of their job."
On the jobsite, every piece of equipment has a specific purpose and there's no replacement for having the right tools for the job, and that includes attachments. When outfitting a piece of compact equipment with the right attachments, contractors should prioritize ease of attaching and detaching the tool, as well as versatility. When selecting attachments, contractors should make sure they are tested and performance-matched with their equipment and are compatible with their equipment's quick-attach coupler for fast, safe and easy attachment changes.
Choosing an attachment depends on the type of work that the contractor is doing. Here,Baker shares a few essential/common attachments that contractors utilize:
Hydraulic breakers (Kubota BR series) — In today's construction environment, there is usually a need for some sort of demolition prior to starting a new project. The BR series of breakers will handle anything from removing curbing, foundations or concrete walls to help get the job started.
Collection brooms (Kubota HB30 series) — With all the new regulations and standards keeping a jobsite clear of debris is mandatory, and with Kubota's HP3074/84 hopper brooms contractors can perform these duties with ease and efficiently clean the jobsite.
Combo bucket(Kubota CB25 series) — When it comes to being versatile on the jobsite there is no substitute for a combo bucket. The Kubota CB2568/72/80 can perform many functions from one hook up. Digging, back drag, push, backfill, grapple, meter fill material and carry material all while never leaving the seat of the power unit.
Grapples (Kubota grapples and scape buckets) — With five different series of grapples, Kubota is sure to be able to fill any need a contractor may have. From demolition to debris cleanup, these units easily find a home in a contractor's attachment lineup.
Augers (SA & EA series) — Kubota SA 20/35 (skid steer) and EA 20/35 series auger power heads give the contractor the ability to utilize either skid steers, CTLs or excavators to dig the proper size holes for fences, pilings and footings. With certain models, being able to switch from skid steer hookup to Kubota excavators without the use of tools and many different types of augers, there is no job that these units cannot handle.
Cold Planers (Kubota By Land Pride CP30 series) — These cold planers are performance-matched with Kubota SSV Series skid steers and SVL Series compact track loaders and offer 12- and 16-in. wide low flow models that operate on the auxiliary hydraulic system with a cutting depth of 5 in. The high-flow CP30 cold planers are available in cutting widths of 18, 24, 30, 40 and 48 in.
Thumbs (Kubota Hydraulic Thumb Kit) — Kubota's hydraulic thumb attachment greatly enhances the versatility of your Kubota excavator. It's excellent for manipulating, handling or loading irregular-shaped objects, debris, rocks and can even pick up items such as logs. It is custom designed to match the bucket tip radius and is retractable (out of the way) for trenching. The Hydraulic Thumb Kit is available for the U25S, KX-71-3, KX033-4, U35-4, KX040-4, U55-4, KX057-4 and KX080-4s excavators.