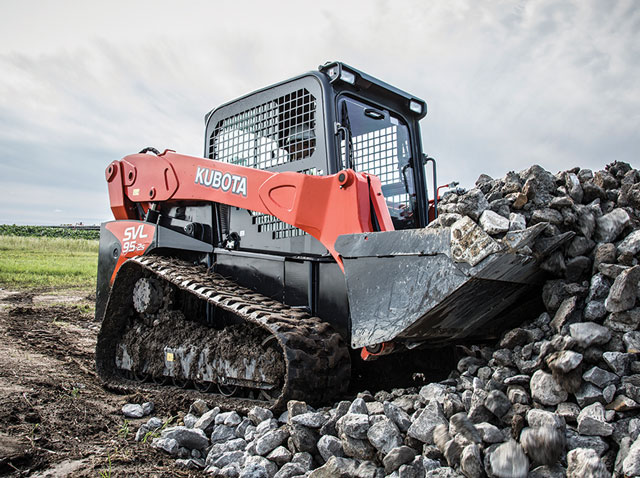 "For the  third consecutive year, skid steer sale volume was lower than compact track loaders industry-wide and that gap will grow this year," says Jorge De Hoyos, Kubota senior product manager, skid steers and compact track loaders. "Gains on specific markets for compact track loaders over skid steers have been in residential construction and agriculture. However, both of these markets still have a need for wheeled vehicles as we know wheeled units are a better choice for hard or aggressive surfaces. There is a price gap for similarly-sized wheel and track units, favoring the wheel units. Kubota offers two models in each product line, covering the largest portion of each market."
Although both machines boast similar characteristics, such as their ability to take on attachments and tackle a wide range of projects, CTLs and skid steers continue to find separation in specific applications. So, how does an operator know which machine is best for his or her to-do list? Let's break down each machine and their advantages.
Skid Steers
While sales are shifting to favor CTLs, there are several applications where skid steers are better suited. De Hoyos offers a few variables to consider:
Job surface. Harder and abrasive surfaces are not very rubber track friendly, therefore the rubber tire machine vs. the rubber track machine is better suited for those conditions.
Ground disturbance. Consider the application where ground disturbance may be important. Nurseries and golf courses, for example, lend themselves to rubber tracks where the lower ground pressure would cause less ground disturbance.  On the other hand, highway roads and bridges where road speed and the use of grinding attachments are essential, it is the wheel machine that should be considered first.
Cost and Cleanup. It's important to understand that track units are more expensive, albeit that gap is lower than it used to be. Contractors should also expect that maintaining a CTL takes a little more time and effort than a wheel unit with proper daily cleaning of the undercarriage.
Kubota entered the skid steer market in late 2015 and has quickly picked up the pace with competitors. Its two models — the SSV65 and the SSV75 — offer operators extreme maneuverability and power in tight spaces, as well as unique features specifically found on Kubota machines.
"A unique feature on Kubota's skid steer is our rollup door," says De Hoyos. "This innovative door design allows it to be locked in the open position so that the operator can continue to operate without removing and storing the door. Plus, the door can be opened at any point of loader arm travel.
"Another unique feature of Kubota skid steers is the rear door mounted fuel tank," De Hoyos continues. "It is quite a revelation when you open the rear door and find the fuel tank mounted on the inside of it. No need to worry since the fuel tank is well protected by the solid, heavy duty door and an additional inch of void between them. Furthermore, by taking that volume out of the engine compartment, the free space makes daily maintenance checks less intimidating and easier to perform."
Compact Track Loaders
Compact track loaders are gaining traction in the market thanks to their rubber tracks and the ability to navigate jobsites with extra flotation — especially in the wet weather months. A dedicated undercarriage also gives added tractive power (great in dozing operations) yet dispenses the weight of the entire machine through multiple track contact points for a lighter footprint. With extra power, lower ground pressure and added flotation and traction, the advantages of CTLs are growing on all types of professionals. This popularity is spurring manufacturers to add even more power and durability into their machines.
"Manufacturers have been making improvements on their undercarriages to extend the life of the machine," says De Hoyos. "An undercarriage that is integrated into the lower chassis, for example, is something Kubota engineered on our compact track loaders since their inception. New higher horsepower with higher lift capacity models have also been introduced into the market. Some of these may displace small dozers and compact wheel loaders in the near future."
Early last year, Kubota introduced the new SVL75-2 with High Flow compact track loader to its SVL series which includes the SVL75-2, and the SVL95-2s. The new SVL75-2 with High Flow offers increased hydraulic horsepower, expanding multi-tasking capabilities for a wide variety of attachments on the jobsite. Boasting a 74.3-hp (gross), four-cylinder, direct injection, turbo-charged Kubota diesel engine, equipped with Common Rail Fuel Injection and a Diesel Particulate Filter (DPF) system, the new SVL75-2 with High Flow meets Tier 4 emissions standards and matches reduced exhaust emissions with enhanced fuel economy.
Whether an operator picks a skid steer or compact track loader, attachments help make the machine reach its full potential. Today, mulchers, grading systems and high dump buckets seem to be popular new categories for these tool carriers. Land management applications are pushing manufacturers to focus on launching new brush cutters, mulchers and heavy-duty mowers, while also providing "forestry" units (usually on tracks) that come with both high-flow hydraulics and a safety package adding armor to the model.
Grading attachments and grade control automation systems are another hot application market for track loaders. Blades, box scrapers and landscape rakes can tackle soil preparation, restoration, leveling and even fine grading for projects. Track loaders seem to excel at grade control jobs because of their light footprint and high pushing power.
"The versatility of skid steers and compact track loaders continue to grow with hydraulic and non-hydraulic attachments," says De Hoyos. "At Kubota we've seen growth in attachments as multipliers in our customers' workforce. Tripling our number of Kubota branded attachments is ample evidence that we believe customers are investing more in hydraulic and non-hydraulic attachments for skid steers and compact track loaders, minimizing their need to purchase other dedicated equipment."