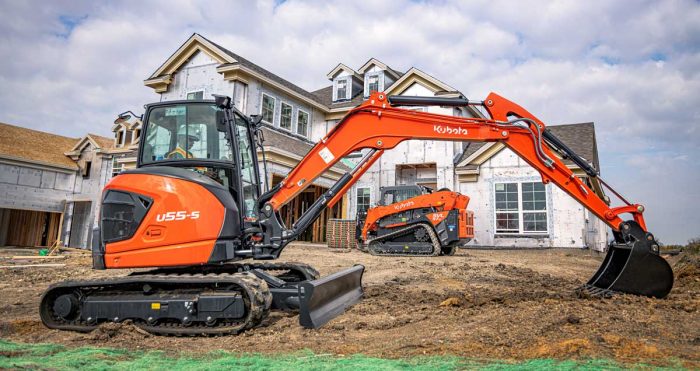 For more than 15 years, Kubota has taken up the mantle of the best-selling compact excavator in the world, according to data from OEM Off-Highway Research. Anyone who has spent a considerable amount of time on a construction jobsite knows Kubota compact excavators reign supreme due to their combination of maneuverability, power and reliability.
But what else sets these lean, mean digging machines apart from the competition? Whether you're considering a conventional, zero or tight-tail swing compact excavator for your construction business, here are three reasons why Kubota compact excavators are the best-selling in the world.
Every machine is built around a durable Kubota engine
We've all heard the saying, 'it's what's inside that matters most,' and that holds true for Kubota compact excavators. Like all machinery in its construction equipment lineup, Kubota compact excavators are powered by an industry-leading Kubota diesel engine. So well respected are Kubota diesel engines in the industry that some Kubota competitors use them in their own equipment. What's more? Kubota equipment is designed, manufactured, sold and serviced by Kubota.
Performance and comfort are the priority
Whether you're digging, loading, trenching, grading, or a whole host of other applications, Kubota compact excavators are designed to help you dig more pay dirt on every job in comfort. With six heating and cooling vents throughout the cab, ergonomically designed control levers, a high-back suspension seat and an easy-open front window, it's easy to stay productive even after a long day in the operator's seat. And when it's time to work, you need a machine that's ready to work as hard as you, so Kubota compact excavators are designed to achieve maximum bucket breakout force for efficient and productive work.
Broad dealer network to support you every step of the way
When you buy a Kubota, you don't just leave the dealership with a great piece of equipment, you become part of the family. Each piece of Kubota equipment is backed by a knowledgeable dealer network that is at the ready to ensure you're choosing the best product for your needs and is committed to keeping you informed, and your equipment serviced, long after the sale. With more than 730 out of 1,100 authorized Kubota dealers nationwide offering construction equipment, Kubota is in your community and ready to help.
Interested in learning more about Kubota's full line of compact excavators? Learn more here.
Tags:
Kubota