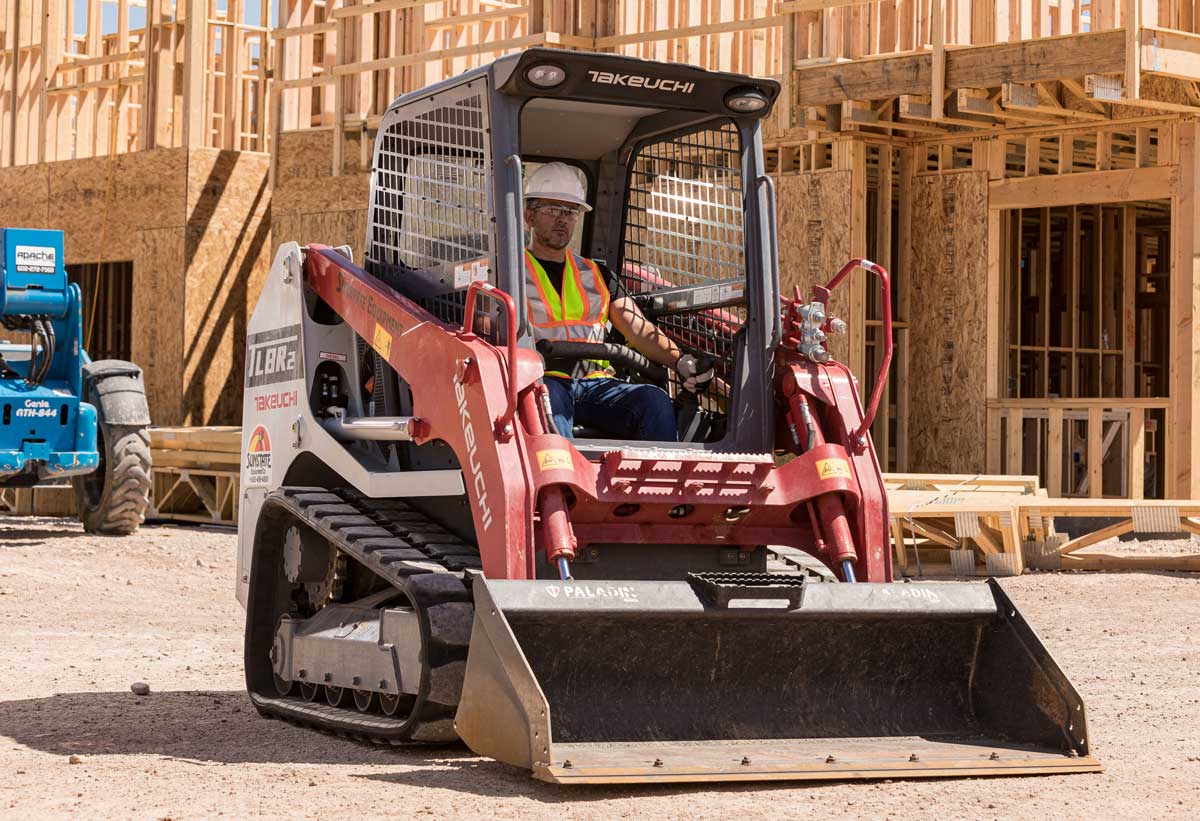 Compact track loader rental enables you to tackle a wide variety of tasks with a single machine quickly and efficiently in many locations. Operating on tracks instead of wheels means the equipment can be used on softer or more sensitive surfaces than wheeled equipment without damaging lawns or creating ruts.
Compact track loaders are relatively small machines with lift arms able to perform many labor-saving tasks using a variety of attachments. Compact track loaders are designed to lift and carry heavy loads, and with the right attachments can also clear, cut, drill, level, mow, mulch, rake, roll, till, trench and more.
A jack of all trades
Attachments are key to the versatility of compact track loaders. Rental helps make it possible to use this versatile tool without maintenance or storage of the equipment or attachments.
Renting attachments for a compact track loader makes a whole list of applications possible. Equipped with the right attachment, the versatile machine can lift debris, haul heavy supplies, level gravel, till land, dig footings, break concrete and more. The attachments available for rent will vary by rental location and make and model of the equipment. Some compatible attachments — like a bucket attachment — may be included with a compact track loader rental, but others may cost an additional fee.
Popular compact track loader attachments for construction applications include:
Angle brooms, Asphalt spreaders, Augers, Backhoes, Breakers, Concrete mixers, Graders, Mowers, Mulching heads, Pallet fork, Snow blowers, Stump grinders, Trenchers, and Vibratory rollers.
Right for your application
As with any rental, it's best to talk through your application with the professionals at your local rental store. You know your work, jobsite challenges and timelines better than anyone and rental partners are knowledgeable about their equipment inventory and machine capabilities. They can help make sure you have the best equipment to do your job as safely and efficiently as possible.
Depending on the work you are planning to do and the rental options available, your rental partner may help in comparing the lifting capabilities or the pushing force of the compact track loader options.
It's also important to consider if additional features are beneficial or needed, and the rental professionals can talk through those options with you. Electric powered may be available and allow you to work in more locations. Newer models may also have touch display, comfort features, additional safety features or even voice commands.
Best practices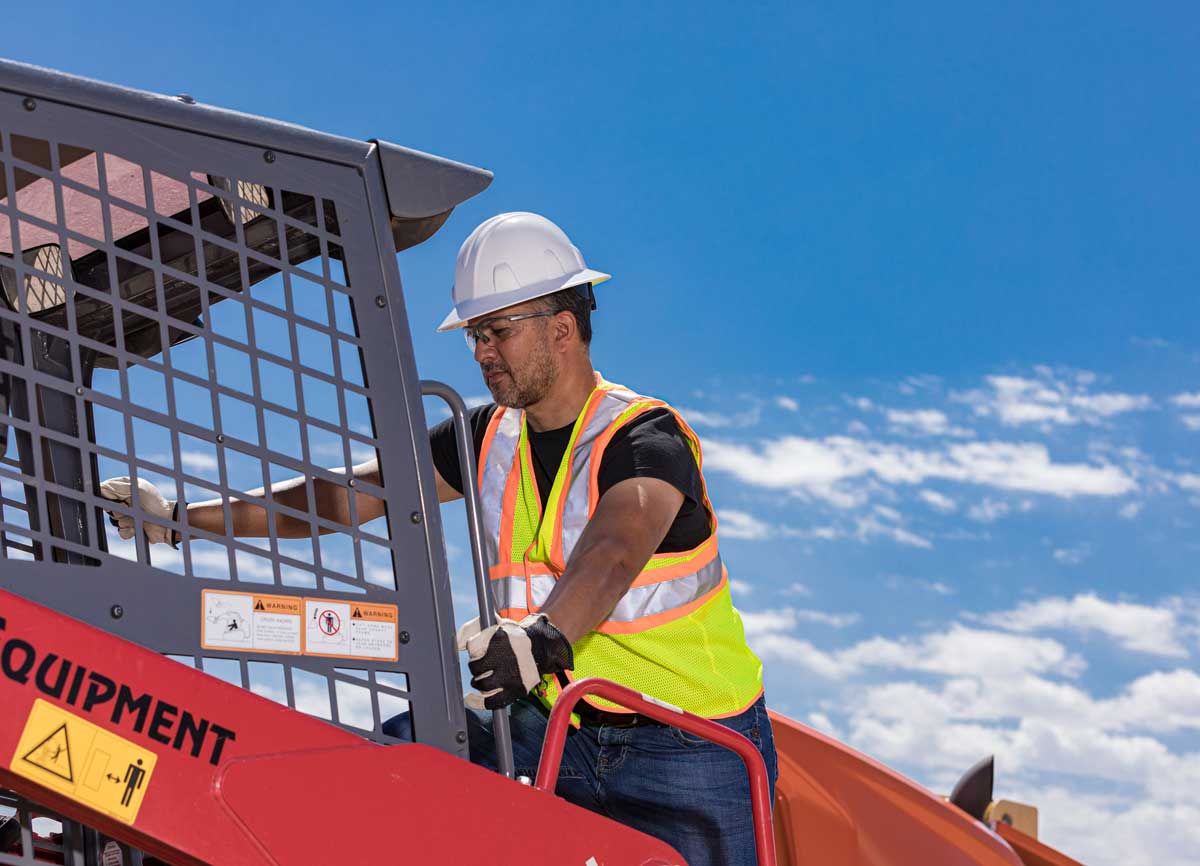 While compact track loaders are designed to be easy to operate and help you efficiently get tasks done, they are not foolproof and safety measures are essential. As the operator of a rented compact track loader, you bear the responsibility for the safe operation of the equipment. Do not operate the equipment until you know how to use it properly. Newer operators should be properly trained before use.
Rental stores often offer how-to video instructions or other training for information on using the equipment safely and effectively as part of the compact track loader rental process.
Other important tips for compact track loader operation include:
Read all manufacturer warnings and instructions prior to using a rented compact track loader.
Properly secure the rented compact track loader when you transport it. This may include chains or straps to secure the machine.
Perform a worksite inspection, noting the areas where you will dig and work. Additionally taking note of all overhead electrical lines or obstructions, as well as soft ground, drop-offs and steep slopes. Maintain a minimum clearance of at least 10 feet from overhead electrical lines.
Before you dig, call 811 — the national "Call Before You Dig" phone number — to notify utility companies of your digging plans, so that they can send a locator to mark underground lines for free.
Do not remove or modify any built-in safety features.
Use a compact track loader only where adequate ventilation is provided.
Keep onlookers away from the jobsite while using a rented compact track loader.
Do not allow anyone to ride in the rented compact track loader other than the operator.
Attachments and buckets should never be used to carry or lift people.
Check and, if needed, service fluid levels in the rented compact track loader. Shut off the engine before refueling.
Only operate the rented compact track loader from the operator's seat.
When moving the rented compact track loader on slopes, go up and down, not across the slope.
When moving the rented compact track loader, keep the bucket or attachment low to the ground.
Do not exceed the lift capacity.
Always lower the attachment to the ground, lock it, turn off the engine and set the parking brake prior to leaving the rented compact track loader.
Never store the key in the machine when using rented equipment.
Renting versus buying a compact track loader
The decision between buying and renting a compact track loader depends primarily on three factors: frequency of use, meeting maintenance needs, and storage capacity for the equipment and attachments. If the equipment will be used often, it is easy to keep up on maintenance and there is adequate storage for the machine and its attachments or accessories, it is most likely a good purchase. However rental often makes the most sense for equipment that won't be used on a weekly basis, will be difficult to maintain or there isn't room to securely store the equipment.
Finding a compact track loader rental can be done quickly and easily with the online rental store locator at RentalHQ.com Developed by the American Rental Association (ARA), the online tool features easy-to-use search functions with fields for equipment type and location. Searches deliver a list of rental partners within the selected area carrying the equipment — such as a compact track loader — with mapped location, contact information and a website link for each store.