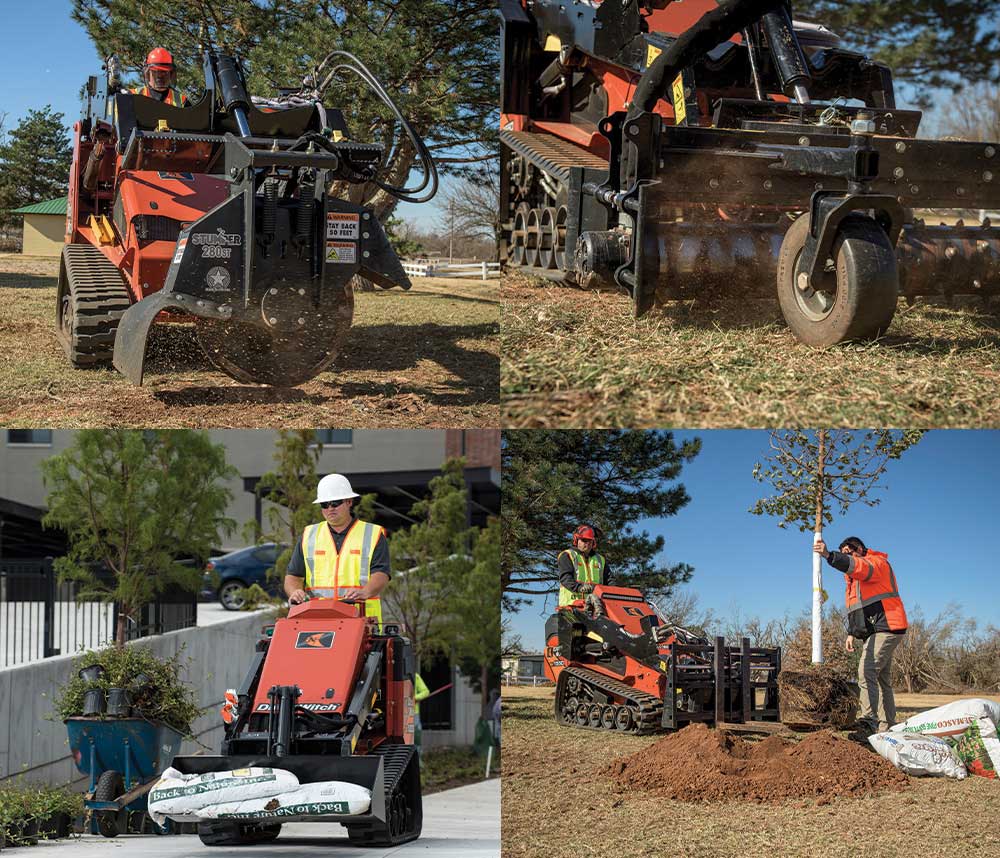 Skid steers are often compared to a Swiss Army Knife – and for good reason. With the ability to easily switch out a variety of attachments, these versatile machines take on almost any task, from trenching and carrying heavy material to landscaping and tree care jobs with attachments like the Harley® rake, grapple hook, and stump grinder.
Rather than hauling a fleet of large machines, operators only transport one skid steer with powerful attachments to clear their to-do list. The versatility makes them ideal to rent (or own) for everyone from plumbers, arborists and landscapers to electricians, general contractors and utility companies.
Stump Grinder
Stump grinders are the benchmark for rugged design, minimal maintenance and cutting speed. It's not only efficient for landscapers on the jobsite, but it eliminates the need to bring a stump grinding machine, minimizing your footprint and operating costs.
Backhoe
Designed to help contractors stay efficient on a variety of earthmoving tasks, the backhoe attachment eliminates the need to bring an excavator. With its digging depth, 180-degree swing radius, and the correct bucket size, the backhoe attachment helps improve operator agility and efficiency.
Power Rake
Power rake attachments are designed to efficiently clean, level and prep job sites or smooth and loosen soil for sodding. Most rake attachments require 10 to 14 GPM, but running a rake with a higher horsepower machine will create even more drum torque to break up hard packed or clay soils.
Hydraulic Power Fork
A hydraulic power fork makes material handling over tough terrain easier and more efficient. Pallet forks also help operators move materials like sod, bricks, trees and stone. Compared to traditional pallet forks, the hydraulic power fork allows the operator to adjust the tines with intuitive controls versus manually, drastically reducing your downtime.
Bucket
Arguably the most popular attachment for stand-on skid-steers, buckets help operators lift large piles of material or debris that need to be relocated or disposed of. There is a variety to choose from, including dirt buckets for transporting topsoil and backfilling. Grapple buckets with hydraulic clamps hold unstable material, making them ideal for tree care or landscaping. Plus, we offer high-capacity buckets, buckets with teeth for digging and 4-in-1 buckets.
With the right attachments, you can turn one machine into a multifaceted workhorse. Make sure to ask your equipment dealer what skid steer attachments will help you get the job done.
Learn more here.
Brant Kukuk, Compact Equipment Product Manager at Ditch Witch
Tags:
Ditch Witch