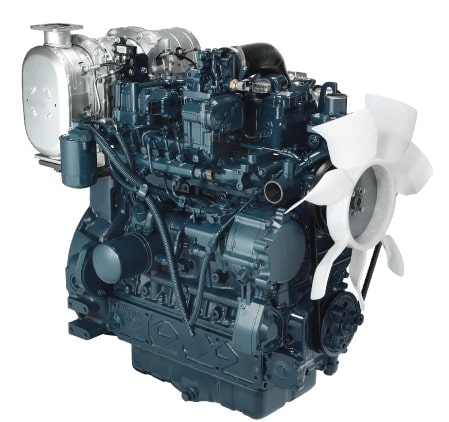 Kubota Engine America Corp. is honoring two of the company's longstanding distributors, M.G. Bryan Equipment Company, serving Oklahoma and Northern Texas, and East Coast Power with four locations serving Atlantic Canada. Kubota recognized and awarded M.G. Bryan Equipment Co. with 30 years of dedicated service, growth and partnership representing Kubota engines at its annual distributor meeting in Lincolnshire, Ill. Here, Kubota also honored East Coast Power with 20 years of successful partnership representing Kubota engines.
Kubota Canada Sales and Marketing Manager JP Ouellette says, "At Kubota, we are very proud of our award recipients this year. When you have longstanding relationships with distributors like M.G. Bryan and East Coast Power, the ease of doing business while exceeding customer expectations makes for very smooth transitions between our products in Japan and our end users here."
M.G. Bryan President Matt Bryan says it is an honor to represent Kubota and calls the company a first-class organization. The distributor is aggressive in the construction and oilfield application markets, and has remained a strong Kubota partner since the beginning.
"Our relationship with Kubota has been evolving ever since my father first started selling their products when he founded the company back in 1986. In the 30 years since then, we have expanded our product offerings from only four engines to now include multiple lines serving major OEMs across the world. As our company grows, our partnership with Kubota has expanded to keep up," he says.
East Coast Power, a division of Sansom Equipment, specializes in industrial and marine diesel engines and has four locations throughout Atlantic Canada. Vice President of Sansom Equipment Dale Mallais says they want to thank Kubota for the award and support they have received over the last two decades.
"There is nothing more gratifying than recognition from your peers and colleagues," he says. "When you are selling the highest quality engines in the market for 20 years, you get to enjoy the feeling of confidence. It helps us reap the full value of KEA products and grow our customer base."
Both M.G. Bryan and East Coast Power have big plans for growth with Kubota in the years to come. In return, Kubota leaders will continue investing in training for distributors and advancing product development to remain leaders in an increasing variety of industries. "Working with reliable distributors and developing strong relationships really sets our company apart in the marketplace and gives us confidence and peace of mind that all customers are being well served," Ouellette says. "We look forward to the next 20 and 30 years of strengthening our partnerships even more."
For more information on Kubota Engine America and its products, parts or services visit: http://www.kubotaengine.com.