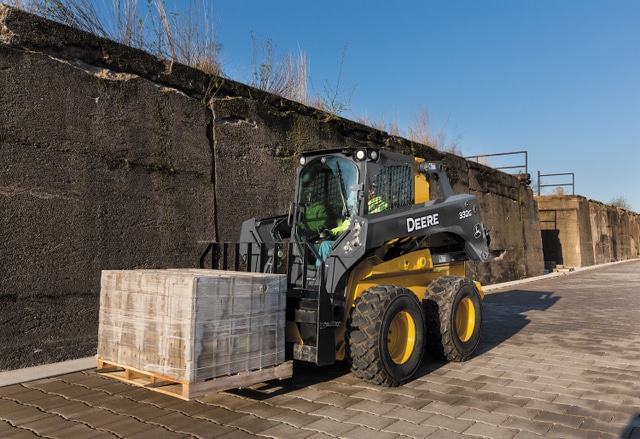 Pallet forks are staple attachments when it comes to getting more versatility and productivity from compact equipment, and now, John Deere has an option for material-handling jobs of every scale with the new severe-duty pallet forks, the latest additions to the ever-expanding lineup of Worksite Pro attachments. Two new pallet forks (PF45 and PF60) are optimized to work with John Deere G-Series skid steers as well as G- and E-Series compact track loaders (CTLs), along with another pallet fork that was specifically designed for use on K-Series compact wheel loaders with the skid steer-style Quik-Tatch coupler. All new pallet forks are also compatible with most competitive models.
"Our new severe-duty pallet forks offer improved visibility, increased capacity and better durability than the previous fork-frame design," said Gregg Zupancic, product marketing manager, John Deere Construction & Forestry. "Together with our standard- and heavy-duty options, we offer a material-handling solution to fit every customer's need."
The severe-duty pallet forks for skid steers and CTLs are available in lengths of 48 and 60 inches, and they can be positioned in widths from 45 inches in 5-inch increments to 60 inches in 5.35-inch increments. They feature a walk-through backrest with a bolt-on option and unrestricted visibility to the fork tips. Skid-resistant steps on both sides of the pallet fork frame also ease vehicle entrance and exit.
With the universal, self-cleaning Quik-Tatch easy attachment system, found on all John Deere skid steers and CTLs, the machine can easily add and remove the severe-duty pallet forks in seconds. The new attachment is also backed by John Deere parts, service and warranty coverage.
The new fork frame, which was designed for use on compact wheel loaders, offers improved visibility, increased capacity and better durability over the previous fork-frame design. It was specifically designed for use on a compact wheel loader with a parallel lift, and it will enable operators to load the far side of a trailer with ease. The tines are ITA class 3B rated and available in either 1.22 m (48 inches) or 1.52 m (60 inches).
For more info on John Deere, click this link. You can do it, clicky!